Are you sick of seeing ironing lines down the side of your shirt or do you find your garment wrinkles after only a short while? We provide hand ironing service at affordable price! 
Our hand ironing experts use quality commercial grade irons so we can assure your pressed garment will last the distance and there is no need to worry about buttons broken or any other damages which can occur with machine press.
We use quality starch for business shirts and a commercial grade starch for linen and tablecloths for best results. Ironed items are then placed on hangers covered by polybags and we offer a folding service for travelling customers.
Ironing Pricing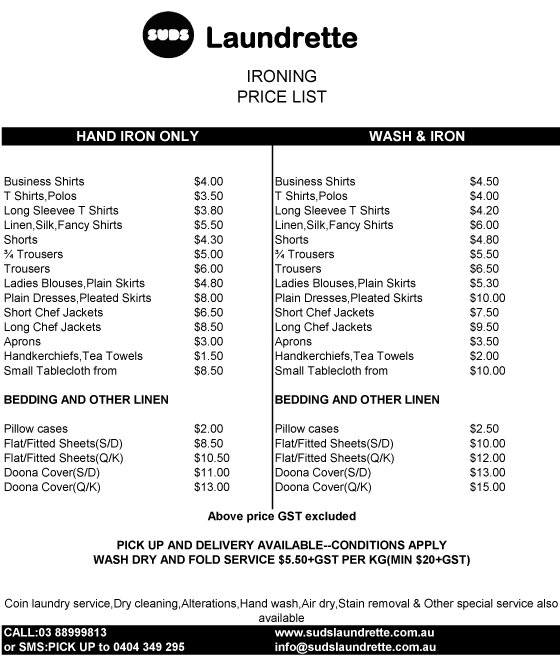 Commercial Ironing
Yes we are very experienced in linen and all types of ironing for commercial purposes. Contact us directly to chat about how we can help your business
Other Services
At Suds, we understand that your laundry needs could be varied. We provide advice to our customers for using services that work best for their garments. Do you know that some garment can only dry cleaned? Or garments might need special treatments? Make sure you speak to our attended staff to choose appropriate service for your garments, it is highly recommended. Try out our Dry Cleaning and Wash & Fold